27 octobre 2023 18h00 Lancement de la résidence curatoriale du collectif asap à l'Espace 3353

The collective as slow as possible will be taking over Espace 3353 from November 2023 to March 2025, as part of a curatorial residency entitled Making Place, Making Kin.
To launch this cycle of exhibitions, their first event, Turnaround, invites us to delve into the work of Iranian filmmaker Saleh Kashefi through his two short films, She Who Wasn't Tamed and And How Miserable is the Home of Evil. Since the age of 12, he has been making his first films, adopting a self-taught approach and carrying out all the tasks required to create his works. His audacious work offers a unique perspective on contemporary youth culture through films with minimal or no budget.
The screenings will be followed by a Soupe au Pistou (V) prepared by artist Clara Roumégoux, who is interested in modes of production and communication in concepts such as sleep, food or design, in their productivist use. Through drawing, sculpture and video, her strategies of appropriation start with collages of popular and historical images, and take the form of lyrical and cynical narratives about the way the neoliberal era generate concepts of well-being, timeless and work.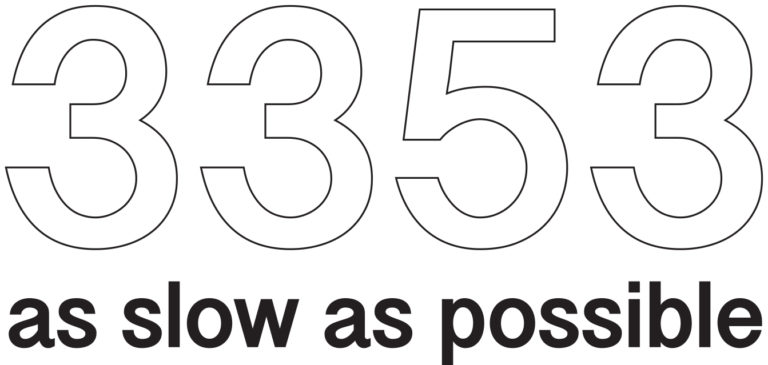 Espace 3353 is a cultural space that opened in October 2018 at the initiative of the HOY collective. The as slow as possible collective (Román Alonso, Phoebe-Lin Elnan, Li Chao Lin and Yul Tomatala) will manage and programme the space from November 2023 to March 2025 as part of an 18-month curatorial residency. as slow as possible aims to facilitate in-depth artistic experiences that require time to engage with, by exploring the wider political, environmental, social and historical contexts that inform the various artistic practices shown. Entitled Making Place, Making Kin, their interdisciplinary programme aims to build strong and lasting connections with participants and audiences, in which 3353 acts as a platform for collaboration and exchange that brings together contributors from different fields and locations.
Espace 3353 is open on Saturday afternoons during exhibition periods and by appointment. For updates on events, follow their Instagram account.